The ultra-sustainable Sunbell Solar Lamp and Phone Charger offers a unique all-in-one design, making it one of the most versatile product on the market. It works as a reading lamp, a ceiling lamp, a flashlight, and as a mobile phone charger – all it needs to work is some sunlight.
Details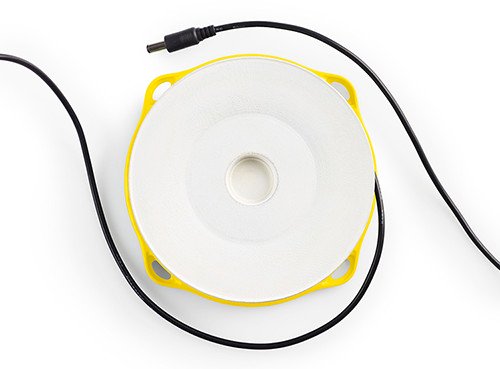 The rechargeable battery needs only 3-4 hours of quality sunlight to be fully charged. The dimmer switch lets you choose between 3 levels of LED light intensity, providing light options for light reading to walking through dark woods.
A 9 foot cable is included inside the solar disk, so the panel can be placed outside while the lamp or mobile phone can be stored safely inside a house, hut, or tent while charging.
It's the perfect off-the-grid solar light and phone charging solution.
Features & Benefits:
An "all-in-one" solar lantern and cell phone charger
Task light – when the lamp shade serves as a table stand
Ceiling light / lantern – when the lamp head is inserted into the lamp shade
Portable light / neck light – when the light unit and battery pack is detached from the lamp
High quality DC/DC USB adaptor that can be used with any mobile phone with a USB charging cable
1 LiFePO battery, 1.400 mAh / 3.2V with 2.000+ cycles (5-7 years)
3 High quality LEDs with adjustable light from 5 to 50 to 150 lumen, 5.500-6.000 kelvin
SunBOOST3 Technology for Max Powerpoint Tracking / battery protection
1.8 W Solar panel with 3m/9ft cable rolled up in solar disc
UV-resistant ABS plastic housing
Splash proof covers for plugs
Shade can be used as a sound amplifier for mobile phone speakers
Comes in 2 bright colors: red and yellow
Light
Light source: 3 x Samsung LEDs
High light output: 150 lm for 4.5+ hours
Medium light output: 50 lm for 14+ hours
Low light output: 5 lm for 130+ hours
LED lifespan: 50,000 hours
Light distribution: 120 degrees
Color: cool white (5.500 – 6.000 kelvin)
Automatic dimming to lower modes at low voltage
Charging and Battery
Solar panel with loops for fixture: 1.8 W with hardened glass cover
Charging time PV: 3-8 hours depending on how much sun is available
Charging time on AC grid with adapter: 1.5 hours
Battery spec: 1 LifePO Battery, 1.400 mAh / 3.2V
Battery protection: self-discharge, reverse polarity, trickle charge
Other Product Facts
Materials in housing: polycarbonate, ABS plastic, steel gooseneck
Dimensions (with lamp unit stored inside the shade): 16x16x16 cm or 6.3×6.3×6.3 inches
Environmental protection – IP class: splash proof IP 42
Weight: 600g, or 21.2 ounces
Factory certification: ISO9001 / ISO4001 / ILO standards

Your Purchase Supports Natural Health Worldwide
It's thanks to your financial support that we can continue to offer thousands of free articles, guides, videos, and other content on the subject of life-saving natural information!


An Essential Survival Tool
This product is one of many in our store that we rank as one of the most essential survival tools – and it's great for everyone to have. A 5-star rating in our book.


Our Money-Back Promise
If you aren't happy with your purchase, just let us know. We'll refund you 100% of the purchase price or replace broken/defective items – no questions asked!