The award-winning and internationally-designed LifeStraw personal water filter takes survival to a whole new level. The Lifestraw, able to filter up to 1,000 liters of water no matter your location enables anyone to safety drink from most contaminated water sources. LifeStraw is ideal for emergency preparedness, as well as for any one who loves the outdoors, such as campers, hikers, and travelers who would rather not rely on local water supplies.
LifeStraw is one of the most advanced, lightweight, and compact personal water filters available today. It surpasses some of the most rigorous standards for water filtration set by the Environmental Protection Agency, making most bodies of water such as rivers or lakes safety ingestible.
Since 2005, LifeStraw has been used in developing countries to assist in achieving the United Nations' Millennium Development Goals for clean drinking water. Now it's your turn to have one.
Features & Benefits
Filters up to 1,000 liters (264 gallons) of water
Removes 99.9999% of waterborne bacteria (>LOG 6 reduction), including E-Coli
Removes 99.9% of waterborne protozoan parasites (>LOG 3 reduction), including Giardia & Cryptosporidium
Reduces turbidity, filtering down to 0.2 microns
Ultralight: weighs only 2oz!
Does not need iodine or iodinized resin
Contains no chemicals, uses no batteries, has no moving parts, and is BPA-free
Very high flow rate; no after taste (because no iodine or chlorine are used)
Easy to clean. Can be stored and used periodically. Just keep uncapped so it can dry thoroughly.
Very durable
No shelf life. LifeStraw can be stored indefinitely. (Former shelf life estimates have been revised.)
Used worldwide in harsh conditions since 2005
Award winning & internationally-recognized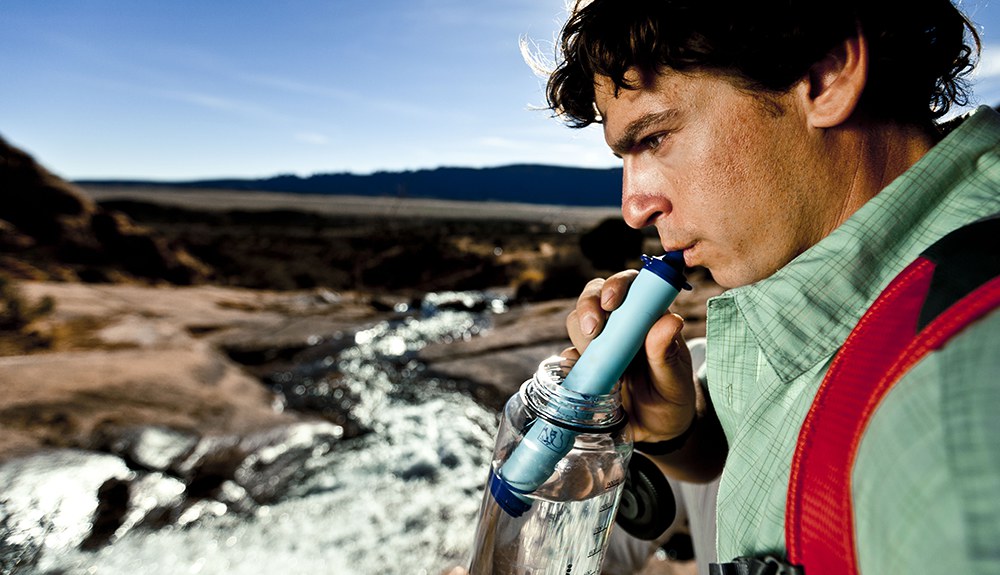 What LifeStraw removes/filters:
LifeStraw filters down to an impressive 0.2 microns in size! This removes virtually all the bacteria (99.9999%) and protozoa (99.9%) from contaminated water, and reduces turbidity (muddiness) by filtering out suspended particles.
Bacteria Removed Include:
Escherichia coli
Campylobacter
Vibrio cholerae
Pseudomonas aeruginosa
Shigella
Salmonella
Protozoa Removed Include:
Giardia lamblia ("Beaver Fever")
Cryptosporidium Parvum
Entamoeba histolytica
Specifications:
Length: 9 inches
Width: 1 inch
Weight: 2 ounces
Construction: Durable plastic. Does not require replacement parts or batteries, or any chemicals.
Capacity: Filters up to 264 gallons (1000 liters) of water.
Included: Comes with a lanyard, and a cap for the mouth piece and end piece
How to use:
The patented LifeStraw is a small tube with specialized filters inside. Place one end in unfiltered water (a glass, water bottle, river, lake, or puddle), and suck the resulting clean water up through the top. It's that easy!
Before use, uncap the LifeStraw and hold it upright in water for a minute. This allows the water to creep up the filter membrane.

Then do 5 quick sucks and the water will flow easily.

When drinking from muddy water, you may have to blow back down into it to purge out the turbidity if the flow slows or stops.
LifeStraw for Travel & Backpacking, Hiking & Camping:
If you've ever been sick while traveling, you know the importance of drinking filtered water! Since the Lifestraw is so small and lightweight, it makes it super easy to carry and use for water sources you may not trust.
For hikers, the idea is similar. It isn't exactly easy to lug around bottles of water, and access to clean water is critical – especially for long hikes. This is where the compactness of the LifeStraw really glows If you're ultra-light hiking, this is a must.
At only 2 oz, it's the lightest way of filtering water while on the go. If you consume the recommended 3-4 liters of water per day while hiking, LifeStraw can last up to 330 days! The coolest part is that you can either drink straight from the water sources, or you can fill up a single bottle repeatedly, simply sucking the water out of the container using the Lifestraw.
As a hiking or camping water filter, the LifeStraw provides great convenience over larger purifiers, pumps, or boiling water to make it drinkable. The Lifestraw can cut your wait-time down significantly and provide the convenience of drinking directly from the water source.
LifeStraw for Emergency Preparedness & Survival:
Let's face it: there are ALWAYS going to be natural disasters, along with the unexpected life crisis. Many people are realizing they cannot depend on their city water during an emergency, or even the supermarkets for food supplies. (This is why we also highly recommend you stock up on storable food that lasts 15+ years.) A water filter that's lightweight, easy-to-use, portable, and effective is important to have in your emergency preparedness kit.
Buy a LifeStraw for each member in your household – it's a low-cost investment in security, and it doesn't expire.
Awards and recognition:
"LifeStraw has received significant accolades since its original design was invented in 2005.Time Magazine named LifeStraw the 'Best Invention of 2005.' In 2008, it won the Saatchi and Saatchi Award for "World Changing Ideas". Esquire called LifeStraw the 'Innovation of the Year.' And Forbes noted that LifeStraw is "one of the ten things that will change the way we live." Now that LifeStraw has launched in the USA and Canada, we expect continued positive responses."
100% Satisfaction Guarantee
We want you to be completely satisfied with every purchase you make. If you're not completely happy with the results, return the product within 30 days and we'll replace it if it's broken or defective, or refund 100% of your money. Simply email us the problem, and we'll take care of you. Email us at [email protected] for help.

Your Purchase Supports Natural Health Worldwide
It's thanks to your financial support that we can continue to offer thousands of free articles, guides, videos, and other content on the subject of life-saving natural information!


An Essential Survival Tool
This produce is one of many in our store that we rank as one of the most essential survival tools – and it's great for everyone to have. A 5-star rating in our book.


Our Money-Back Promise
If you aren't happy with your purchase, just let us know. We'll refund you 100% of the purchase price or replace broken/defective items – no questions asked!