Essential Survival Tools – LifeStraw Go Water Bottle and Filter
The award-winning LifeStraw water filter has been incorporated with a sports bottle to give users access to safe drinking water even when there is no water source nearby. It's called the LifeStraw Go.
Keep reading below for a full description.
Out of stock - Join the waitlist to be emailed when this product becomes available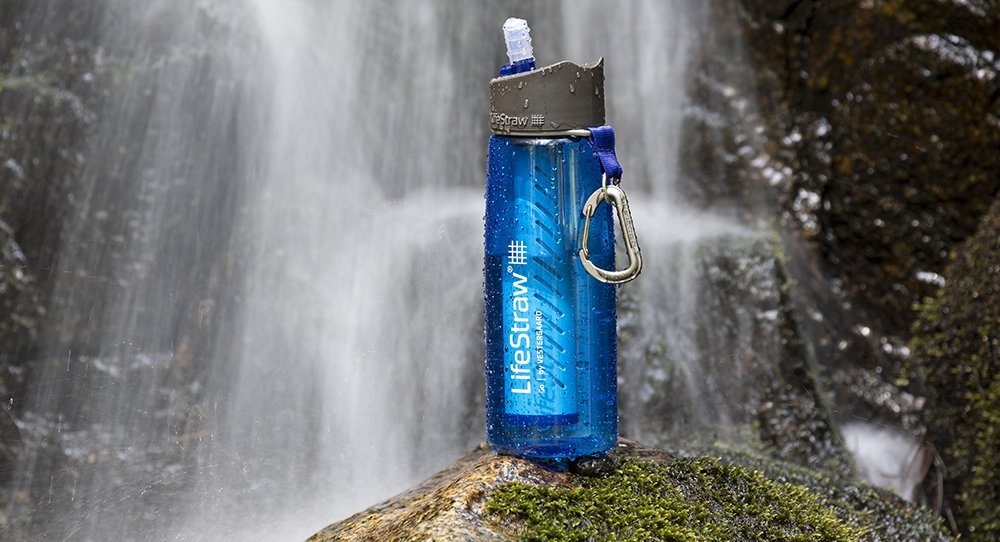 Are you looking for a way to enjoy clean, safe water, anytime and anywhere? The award-winning LifeStraw water filter has been incorporated into an easy-to-carry sports bottle to give you access to safe drinking water even when there is no water source nearby. All you have to do is full up and sip away. It's called the LifeStraw Go.
The LifeStraw filter is one of the most advanced personal water filter available on the market. LifeStraw Go filters water down to 0.2 microns without the use of chemical or iodine, even surpassing EPA standards for removing E. Coli, Giardia, and Cryptosporidium oocysts, among other waterborne contaminants.
Made of BPA-free Tritan, the LifeStraw Go is extremely durable. The built-in LifeStraw filter is securely fitted, the lid is leak-proof, and the mouthpiece hinge can withstand frequent use in rough conditions. The food-grade silicone mouthpiece is also flexible, which prevents it from chipping or cracking.
Lastly, the bottle can be reused indefinitely, saving waste from disposable plastic water bottles. What more could you ask for in a water filter that can be used anywhere, anytime, with haste and ease?
Features & Benefits:
Filters up to 264 gallons or 1000 liters of water down to 0.2 microns
Removes 99.9999% of waterborne bacteria (> LOG 6 reduction)
Removes 99.9% of waterborne protozoan parasites (>LOG 3 reduction)
Zero aftertaste as it contains no chemicals or iodine

23-ounce durable, leak-proof bottle made of durable BPA-free Tritan

Filter and mouthpiece detach for easy cleaning
Includes carabiner for easy carrying
How to Use
Simply use the bottle to scoop water from any pond, stream or river, and you will have a supply of fresh, clean drinking water.
Take the LifeStraw Go with you when you go hiking, camping, or travelling to areas with poor water quality.
Use the carabiner to attach to your backpack, or store in your preparedness kit to ensure access to safe, clean drinking water in an emergency.
Bacteria removed include:
Escherichia coli
Campylobacter
Vibrio cholerae
Pseudomonas aeruginosa
Shigella
Salmonella
Protozoa removed include:
Giardia lamblia (Beaver Fever)
Cryptosporidium Parvum
Entamoeba histolytica
Specifications:
Capacity 23 oz
Weight: 7.8 ounces
Dimensions: 9″ L x 3″ W
Material: BPA-Free Tritan
Mouthpiece material: Food Grade Silicone
Included: 2.6" x 0.2" Carabineer

Your Purchase Supports Natural Health Worldwide
It's thanks to your financial support that we can continue to offer thousands of free articles, guides, videos, and other content on the subject of life-saving natural information!

An Essential Survival Tool
This product is one of many in our store that we rank as one of the most essential survival tools – and it's great for everyone to have. A 5-star rating in our book.

Our Money-Back Promise
If you aren't happy with your purchase, just let us know. We'll refund you 100% of the purchase price or replace broken/defective items – no questions asked!
FAQ
Can I buy a replacement filter for the LifeStraw Go?
LifeStraw Go replacement filters will be available for purchase later this year.
Can I use the LifeStraw Personal as a replacement filter on my LifeStraw Go bottle?
The LifeStraw Personal filter does not fit on the LifeStraw Go bottle. Replacement filters for the LifeStraw Go will be available later this year.Does the LifeStraw Go filter out salt water, chemicals or viruses?
The LifeStraw Go is designed for the backcountry and will filter out 99.9999% of waterborne bacteria and 99.9% of waterborne protozoan parasites. Chemicals, salt water and viruses will not be removed. If you were looking for a high capacity filter to remove viruses, the LifeStraw Family 1.0 will be able to remove 99.999% of viruses.
Can I drink pool water with LifeStraw products?
Pool water contains chlorine and other chemicals. LifeStraw products can only filter out bacteria and parasites, not chemicals.
How do you know when your LifeStraw has reached capacity?
When your LifeStraw has reached capacity, it will no longer be able to draw water through the filter. To extend the life of your LifeStraw, please follow the instructions on the manual to properly back flush the unit.
What is the shelf life of LifeStraw products?
LifeStraw products use mechanical filters to remove contaminants from the water source. No chemicals or moving parts are involved within the filtering process, meaning nothing will expire. If stored in room temperature, the LifeStraw will last indefinitely until it reaches capacity…even after use!
Share your thoughts!
Let us know what you think...
---