Did you know that conventional candles are created with synthetic chemicals and genetically modified ingredients that are toxic to your health? Conventional, cheap candles could even be responsible for causing your headaches or dizziness.
These ingredients are often added because they are inexpensive and to make the candles burn for longer, but they are certainly not needed. Some of the biggest candle brands are using this trick which could be having adverse effects on you and your family's health.
Why Organic Candles are Better
Both Natural Society and candle developer Coutiver believe in only using the best natural ingredients to ensure the candles have no negative effects on the environment or your family's health.
Here is why you should choose our organic candles over conventional any day.
Key Features:
French designed & hand poured
About 200g / 7.0 oz candles burn up to 40 hours.
Vegan & Cruelty Free certified by PETA association.
100% Eco non- genetically modified (non-GMO) soy wax.
The cotton wick has been specially selected for its organic agriculture origin. It also provides a pretty flame which consumes the wax at a slower speed.
100% Reusable or recyclable glass made in Europe and the label and protective disc are made from 100% recycled paper, recyclable or compostable.
Enjoy the candle, wash the candle glass, then use it for whatever you fancy… or recycle it.
Nature is luxury. This is why our candles are made with 100% natural, organic ingredients.
Luxury Hand Poured Organic Candle "Mademoiselle"
Take a walk through the streets of Paris with "Mademoiselle", a spicy, woody fern with soft, powdery floral notes.
Luxury Hand Poured Organic Candle "Lotus Garden"
Share the delight of the sacred "Lotus Garden". Its magical beauty with a top note of Melon, tagete, geranium leaf, with middle notes of lotus flower, soft lily, and jasmine, and last, but not least, reveling sandalwood, warm cedar wood, rich vanilla and sheer musk bases notes.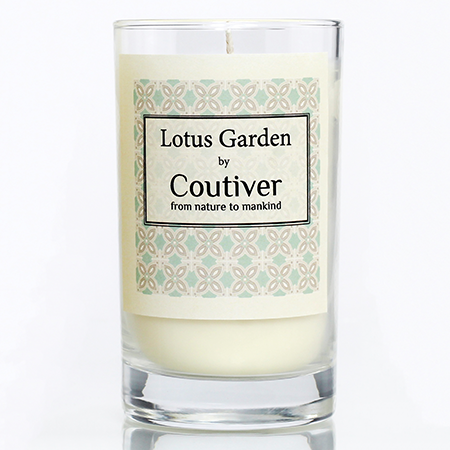 Luxury Hand Poured Organic Candle "Spring Cotton"
"Spring Cotton" is scented with this amazing uplifting scent of freshly washed cotton hanging to dry in the garden in a beautiful sunny spring day.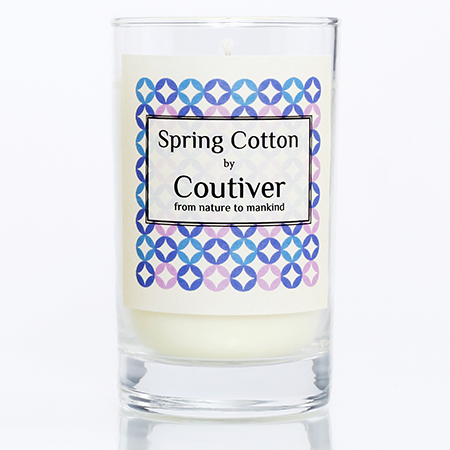 Luxury Hand Poured Organic Candle "Vetiver"
Enjoy a touch of indulgence with this luxury fragrance. "Vetiver" has a refreshing citrus scent comprising of zesty lime and lemon, with a classic cologne heart and a smoothwoody base.