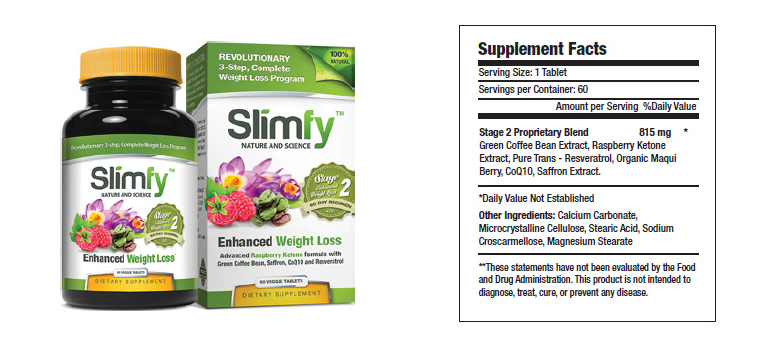 Slimfy Stage 2 combines some of the most talked about natural weight loss ingredients available: Green coffee bean, raspberry ketones, and rubus idaeus – the compound found in red raspberry. Collectively, the ingredients have been shown to help break down fat cells and jump-start metabolism, paving a path for natural weight loss. Red raspberry is also said to work as an appetite-suppressant while blocking fats and carbs from being absorbed.
Designed to be an elite weight loss program on today's market, Slimfy's custom formulas are made in the USA using top-notch ingredients. The research team has dedicated countless hours conducting chemical analyses in order to find the perfect balance for the most success.
Slimfy stage 2 contains green coffee bean extract, r

aspberry ketone extract, s

affron extract, organic maqui berry, CoQ10, and resveratrol
Ingredients and Serving Size
Serving Size: 2 Tablets – Servings Per Container: 30.
Ingredients: Green coffee bean extract 800mg, raspberry ketone extract 200mg, pure trans – resveratrol 250mg, organic maqui berry 250mg, CoQ10 100mg, saffron extract 30mg
Directions
Take 1 veggie tablet 30 minutes before a meal with a glass of water. Twice daily. Use it before your main meals – for instance, before lunch and dinner.
Legal Disclaimer
Do not use if safety seal is broken or missing. This product is not intended to diagnose, treat, cure, or prevent any disease.
ALWAYS CONSULT YOUR DOCTOR BEFORE TAKING ANY DIETARY SUPPLEMENTS
These statements have not been evaluated by the Food and Drug Administration. These products are not intended to diagnose, treat, cure or prevent any disease. This product is not for use by or intended for sale to persons under the age of 18. This product should be used only as directed on the label. It should not be used if you are pregnant or nursing.
100% Satisfaction Guarantee
We want you to be completely satisfied with every purchase you make. If you're not completely happy with the results, return the product within 30 days and we'll replace it if it's broken or defective, or refund 100% of your money. Simply email us the problem, and we'll take care of you. Email us at [email protected] for help.

Your Purchase Supports Natural Health Worldwide
It's thanks to your financial support that we can continue to offer thousands of free articles, guides, videos, and other content on the subject of life-saving natural information!


Made with Organic, Non-GMO Ingredients
Loaded with natural, organic, and NON-GMO ingredients to kick-start your body into weight loss mode by unleashing its detoxifying agents and fat burning power.


Our Money-Back Promise
If you aren't happy with your purchase, just let us know. We'll refund you 100% of the purchase price — no questions asked!